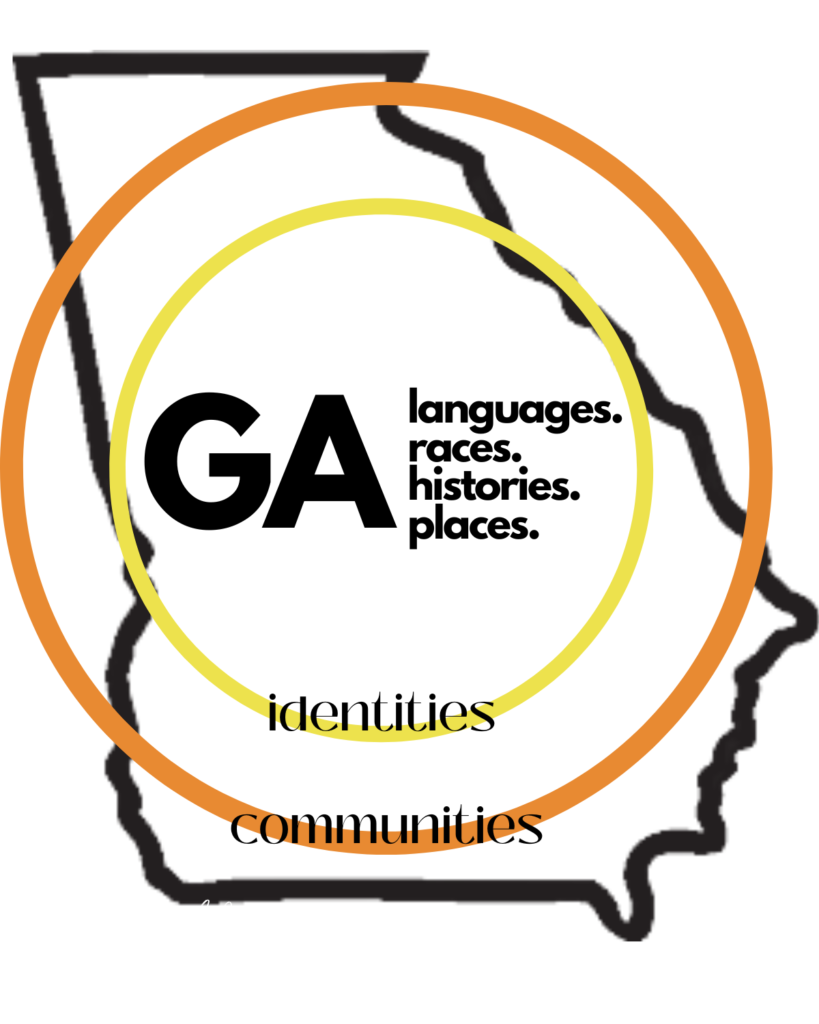 Language
We believe languages, language varieties, and community literacies are developed over time in social and cultural communities. Language is tied to identity, history, and place. Language is how we construct selves and communities and how others construct understandings about us through linguistic ideologies.
Race
We believe language and literacies construct self and community. These identities are a part of the systems of power, privilege, and ideologies that shape the way language is used, heard, and understood. We foreground "race" rather than "identity" to ensure the racialization of language is explicit in our understandings of language and literacies.
History
We believe language adn literacies are ever evolving over time. Understanding languages' and literacy practices' power in (re)constructing self and community is intertwined with long histories. We understand studying language and community literacies means studying the past, present, and potential futures of self and community becoming.
Place
We believe language is used in geographic spaces whose histories have shaped and reshaped language, literacy practices, and conceptions of justice. We believe language and literacy practices are place-based: they hold the most meaning and potential for the space in which they are developed and used.
Baker-Bell, A. (2020). Linguistic justice: Black language, literacy, identity, and pedagogy. Routledge.
Caraballo, L., Lozenski, B. D., Lyiscott, J. J., & Morrell, E. (2017). YPAR and critical epistemologies: Rethinking education research. Review of Research in Education, 41(1), 311-336.
Flores, N., & Rosa, J. (2015). Undoing appropriateness: Raciolinguistic ideologies and language diversity in education. Harvard Educational Review, 85(2), 149
Hudley, A. H. C., Mallinson, C., & Bucholtz, M. (2020). Toward racial justice in linguistics: Interdisciplinary insights into theorizing race in the discipline and diversifying the profession. Language, 96(4), e200-e235.
Paris, D., & Alim, H. S. (Eds.). (2017). Culturally sustaining pedagogies: Teaching and learning for justice in a changing world. Teachers College Press.
Sánchez, L., & Honeyford, M. (2021). Creating critically engaged classrooms through community literacies. Journal of Adolescent & Adult Literacy, 9-15.
Tuck, E. (2009). Suspending damage: A letter to communities. Harvard Educational Review, 79(3), 409-428.
And many, many more. Here is an ever evolving reading and listening list that our collaborators recommend with examples on how we translate them into teaching resources: Language and Linguistic Justice Resources
Humanizing
We believe change happens within humanizing relationships where each individual is seen as a whole person with a history and unique experiences worthy of personal engagement. Therefore, we seek dialogue with all persons, groups, or organizations.
Intimate
We believe change happens within civil, intimate, and vulnerable relationships. Therefore we intentionally prioritize small events, programs, workshops, conferences, and meetings to ensure there is space for listening, asking questions, admitting misconceptions, and unpacking assumptions.
Dialogue
We believe change happens within dialogic interaction that prioritizes asking questions and collaboratively exploring new information, perspectives, research, and experiences. Therefore, we understand change is not always immediate but shifts based on individual positionalities.
to action
We believe change includes shifts in thinking but must also include intentional action. Therefore, we do not end with dialogue but offer and collaboratively develop resources, sustained support, and clear action steps based on individual positionalities.